Things To Do
Staying at Sand Dunes Resort in beautiful Myrtle Beach, South Carolina offers you endless vacation fun opportunities and memories to last a lifetime. Here you will discover forever crystal white sand beaches, endless water sports, parasailing, snorkeling, surfing, swimming, shopping, theaters, golfing, dining, a fishing pier, and so much more. Book your stay today at this notable resort and come see all the amazing activities Myrtle Beach has to offer you.
The Beaches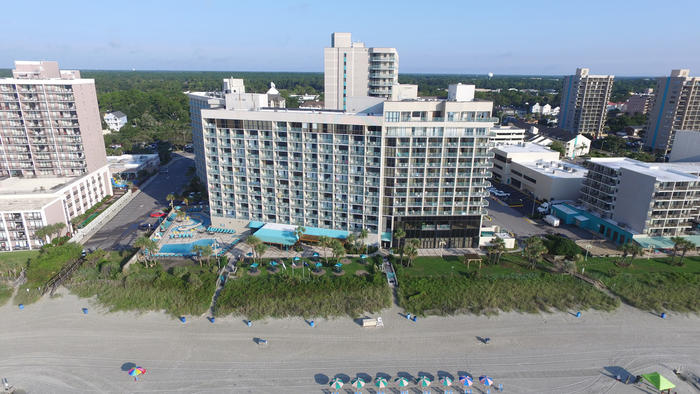 Take in the salty Atlantic Ocean sea breezes daily while you stroll for miles on the white chalky forever soft sand beaches in Myrtle Beach, South Carolina. These pretty beaches are only steps away from Sand Dunes Resort offering you a plethora of wonderful water and beach activities for you and your family to partake in. Play a game of volley ball on the beach, search for treasures of seashells and sand dollars or have a seaside picnic while you take in the surrounding beauty that South Carolina offers.
Parasail high into the pale light blue skies in gorgeous Myrtle Beach, South Carolina. Snorkel the colorful underwater world and discover all the hidden beauty of life under the sea. Later swim in the sea or jump the humongous ocean waves and laugh with the kids. Sea Doo rentals are very popular and offer guests an adventurous time at sea. You may also want to rent a boat to fish for the best catch ever at sea. Maybe rent a sailboat for the family and have a picnic out at sea. Kayaking has become another popular sport in this area that offers the whole family a fun time together. SCUBA lessons are popular in the area and offer you a wonderful adventurous time in the Atlantic Ocean. No matter what you choose for your water adventure you will have the best time ever in Myrtle Beach, South Carolina.
GOLF
Choosing Sand Dunes Resort is top choice if you happen to love golfing. In the Myrtle Beach area, you will find over 100 championship golf courses to choose from.
Sandpiper Bay
Sandpiper Bay offers a wonderful country club atmosphere and a golfing experience of a lifetime with affordable prices making it one of the best on the Grand Strand. This golf course offers top golfing and was recently renovated with MiniVerde Bermuda greens on all 27 holes.
Tradition Golf Club
This amazing golf course was designed by renowned architect Ron Garl and is in a traditional South Carolina Lowcountry setting. Here you will take in the beauty of twisting live oaks and tall beautiful pine trees. The atmosphere is breathtaking at this featured golf club. This course was ranked as Golf Course of the Year in 2001 with a 4.5-star rating from Golf Digest. Come relax at the Tradition Golf Club and spend a day in the beauty of South Carolina.
ENTERTAINMENT
Myrtle Beach is well known for the best entertainment ever. Here you will find theaters, Broadway shows, variety shows, stage productions, musical shows, and some of the best comedy shows in the area. We promise the best in Myrtle Beach, South Carolina for entertainment.
Medieval Times
Medieval Times in Myrtle Beach offers families a night of thrilling adventure. Step foot into the large royal castle and take a step back into time of the forgotten age where you will watch the knights fight a battle of courage and love. This popular dinner theater has a wonderful menu of delicious food and drinks. You will experience a brilliant battle before your eyes with swordplay, music, lights, and action. The fairy tale action will have you on the edge of your seat cheering for your favorite knight. Come experience an astounding time at Medieval Times. Be sure to book your tickets early by visiting www.medievaltimes.com.
Alabama Theater
For a lively night of music and legends of country music come spend a night at The Alabama Theater in the Barefoot Landing area in Myrtle Beach. This lovely theater is geared towards families who are vacationing in the area offering the best shows ever with musical awards. This theater offers the best South Christmas show ever. Be sure to check out the site and get your tickets early at www.alabama-theater.com A night of singing and theater await you and your family. You will not be disappointed when choosing this excellent theater.
The Carolina Opry Theater
The Carolina Opry Theater is known as the best theater in the area with some of the best shows produced by the leader in live entertainment, Calvin Gilmore and was acclaimed by countless national media. At this theater you will find two hour shows of exciting music, comedy and dancing. These outstanding shows will be the talk of your vacation as you take in the best this theater has to offer in the Grand Strand. Be sure to check out prices, tickets and more online at www.thecarolinaopry.comThis is one place you must visit while vacationing in South Carolina. The reviews are awesome, and you can check these out online. The Christmas shows are so amazing that you will not want to miss out one of those bright colorful and magical shows.
AMUSEMENTS
Myrtle Waves happens to be one of the most popular water parks in the Myrtle Beach area. Loaded with adventurous excitement you will find kids play areas, water slides, tube rides, lazy rivers and a wave pool. Rent a cabana for the day for you and your family and watch the kids splash all day under the hot South Carolina sunshine. You will love this water park and will most likely return multiple times during your vacation stay at Sand Dunes Resort. The website for this incredible and fun water park is www.myrtlewaves.comBook early to save time and money for a day of fantastic fun under the sun!
SkyWheel
Take to flight in the SkyWheel located in Myrtle Beach set against the most beautiful Atlantic Ocean backdrop ever. Here you will rise with grace in the perfect climate controlled temperature gondolas as you hover up to the pale blue skies of South Carolina. Take photos of the breathtaking Atlantic Ocean. This will be one of your most beautiful and dearest memories of your vacation days spent in Myrtle Beach. Purchase tickets ahead of time and save money and time at www.skywheel.com
Other neat ideas to partake in while vacationing in South Carolina are bike rentals, laser tag, a zoo, art galleries, shopping malls, museums, fishing rentals, fishing cruises, dinners cruises, arcades, mini golf courses, the Family Kingdom Amusement Park, and roller blading. Walks on the beaches happen to be one of the best activities in Myrtle Beach, South Carolina. The romantic Atlantic Ocean is perfect for shag dancing under the moonlight each night of your stay at Sand Dunes Resort.
DINING
Fresh seafood aromas fill the salty air in Myrtle Beach luring you in to try just one more restaurant from the many that line the quaint city streets. Everything is delicious and freshly caught directly from the beautiful Atlantic Ocean. Come dine of the best tasting and freshest seafood ever in South Carolina.
Flamingo Grill
Flamingo Grill is rated as one of the top restaurants in the area offering you American foods, seafoods, vegetarian friendly foods and even gluten free options. Just wait until you try the lobster tail feast! The menu is delightful at this wonderful and tasty restaurant with a 4.5-star rating.
Sea Captain's House
Located on beautiful Ocean Boulevard you will find this classy restaurant to be one to return to again and again with a seafood menu to please. There are many choices of fresh seafoods, fish, crab cakes, salads, potatoes, and even wonderful breakfasts. The food is perfect, and atmosphere is divine.
Pier 14
This restaurant is known for excellent seafood and a fantastic romantic view. It was rated 4.0 and happens to be one of the most popular restaurants to try out. Come check out the freshest seafood menu around and sip on a delicious drink of your choice. This restaurant is truly worth your time.
WATER SPORTS
Playing outside is the highlight of any day and Myrtle Beach offers you the Atlantic Ocean and days of sun and fun. Water sports are very popular in the area and there are many to choose from. Be sure to pack your GoPro or camera and capture photos of the beach, parasailing, snorkeling, SCUBA diving, and more. Myrtle Beach is packed with excitement and South Carolina water sport fun daily.
Express Watersports
At Express Watersports you can rent a Jet Ski or even take an Eco Tour on a Jet Ski with a tour guide. These guides will lead you through the inlet and up past million-dollar homes as you make your way out into the forever Atlantic Ocean. You will search for dolphins as you make your way on this amazing ocean tour. Be sure to check out this fantastic rental place and enjoy at day out on the gorgeous sea.
Property Location
Location: Oceanfront
Area: Myrtle Beach
101 74th Avenue North
877-868-2750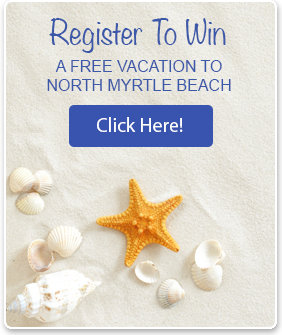 Disclaimer
Myrtle Beach Vacation Rentals is not affiliated with onsite management or the HOA of this complex.